Cabinet Design and Cabinet Sales in Ann Arbor, Michigan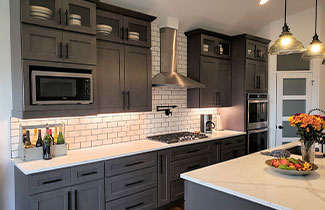 When a homeowner in Ann Arbor, Michigan, decides to do a kitchen remodeling project, often it is the cabinets that get a lot of attention. This is because having enough storage is important, whether that's for food in a pantry, or to have a space to put various small appliances. Having the right cabinet design in your kitchen solves all of these issues while also making your kitchen a space you enjoy hanging out in with your family and friends. Sometimes adding a unique feature to your cabinets is the way to go to help make your kitchen unique to you. This might include having metal grates in your cabinet doors instead of solid panels, or it might mean having unique hardware on your cabinets and drawers. The design team at Exclusively Cabinets by Cabinetek can help bring your vision to life.
Custom Kitchen Cabinets in Ann Arbor, MI
You might find that you really want a special cabinet near the stove, or you want a special drawer that houses different baking items you use regularly. Whatever it is that you are looking to have in your kitchen, getting custom kitchen cabinets is the answer to make all of those desires happen. Additional storage space that is positioned in the right area of the kitchen where it makes the most sense for how you use the room. Those same cabinets can be painted or stained to change up the look of the room as well because they take up so much physical space. Let their interior designers provide you with an eye-popping, jaw-dropping color scheme that will make you the talk of the neighborhood.
Custom Cabinets in Ann Arbor, MI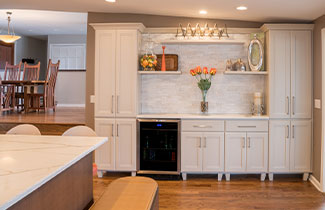 Custom cabinets don't just work in the kitchen, but in nearly any other room or space that you are looking for storage solutions for. In your laundry area, having a couple of cabinets can keep the space clear and uncluttered. You might also want to add some special cabinets outside of your guest bathroom or even in your garage are for any number of items. Call the team at Exclusively Cabinets by Cabinetek today to get started on improving your home.
Ann Arbor became the seat of Washtenaw County in 1827 and was incorporated as a village in 1833. Since the university's establishment in the city in 1837, the histories of the University of Michigan and Ann Arbor have been closely linked. Throughout the 1840s and the 1850s, settlers continued to come to Ann Arbor. While the earlier settlers were primarily of British ancestry, the newer settlers also consisted of Germans, Irish, and African-Americans. In 1851, Ann Arbor was chartered as a city, though the city showed a drop in population during the Depression of 1873.