Serving Livonia, MI, and the Surrounding Areas
Does your Livonia home kitchen feel outdated? Are you tired of not having enough storage space in your bathroom? Is your home's interior outdated and in need of a facelift? If so, then it may be time to consider remodeling your home. One of the most important aspects of bathroom remodeling and kitchen remodeling projects is cabinet designs.
At Exclusively Cabinets by Cabinetek, we specialize in custom cabinet sales and design for homes in Livonia, MI, and the surrounding areas. Whether you're searching for custom kitchen cabinets or a fresh set of Inset cabinets for your bathroom, we help you get the right cabinets that fit your budget, home, and lifestyle.
Custom Cabinets and Cabinet Sales in Livonia, MI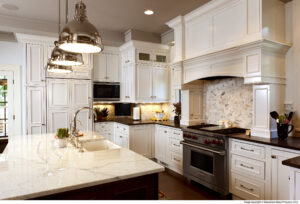 We help you get the custom cabinets of your dreams for your home in Livonia. Specializing in cabinet sales from the most respected kitchen cabinetry and bathroom cabinet designers, we ensure that you get the best cabinets for your budget. Here are some custom cabinet design elements to consider for your remodel:
Materials – When it comes to cabinet design for your bathroom or kitchen cabinetry, the most important element is selecting the right materials. We offer a range of materials to choose from including plywood, laminate, fiberboard, and more!
Style – There are several customary cabinet styles to choose from. Amongst the most popular designs in cabinet sales include Shaker cabinets, Louvered, Bedboard, Inset, Distressed, and more!
Depth – Custom cabinet creation gives you the power to choose the right cabinet depth to fit your demands. Typically, cabinets are 12 inches deep and 24 over refrigerators. However, you can customize the height and depth of your cabinets to accommodate your home's design and personal preferences.
Kitchen Interior Design and Bathroom Remodeling, including Cabinet Design in Livonia, Michigan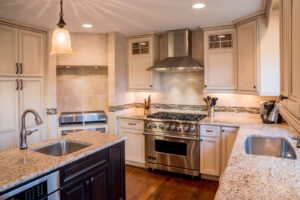 As the largest suburb in Detroit, Livonia is a charming and populated community full of residential, commercial, and industrial opportunities. Known for its prominent spot in the sports world, Livonia is home to some of the largest amateur hockey and city soccer clubs in the state. Whether you're just headed to a game, or you call Livonia home, we can all agree that Livonia is a great place to be!
At Exclusively Cabinets by Cabinetek, we are proud to provide homeowners in Livonia, MI, and the surrounding areas with custom cabinets for bathroom remodeling and kitchen interior design projects. Whether you're searching for Shaker kitchen cabinets designs or wanting to design custom cabinets for your bathroom, we're here to help you get everything you want from your new cabinetry. For more information on custom cabinets for kitchen remodeling and bathroom remodeling, give us a call today!