Cabinet Design and Cabinet Sales In South Lyon, Michigan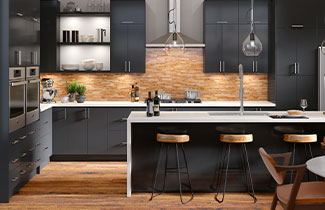 You might not think that cabinet design is important during your kitchen remodeling project in your South Lyon home, but then you may be missing out on some important features that you would like in your kitchen cabinetry. This is why it is important to work with the designers at Exclusively Cabinets by Cabinetek to understand what is available, including those options that you were not aware of. Sometimes those options will impact what cabinets you want to have, as well as where they end up being placed in your kitchen. Get the custom kitchen cabinets that you want without breaking the bank by talking with the team at Exclusively Cabinets by Cabinetek . Call them today to get your kitchen remodeling project off the ground.
Custom Cabinets in South Lyon, MI
You have limited space in that second bathroom, and you want to make sure that whoever is using it will have everything that they are expecting, and they shouldn't have to search all over to find it. With the right measurements, you and the design expert at Exclusively Cabinets by Cabinetek can determine the right cabinets to put into your bathroom where they will fit, look great, and provide you with all of the storage that you need. This is what custom cabinets can do for any space in your home, including the bathroom and the kitchen, but they can also work for any other room in your home where you want cabinets. Cabinet design can also include custom cabinets where it makes sense in these spaces.
Kitchen Cabinetry in South Lyon, MI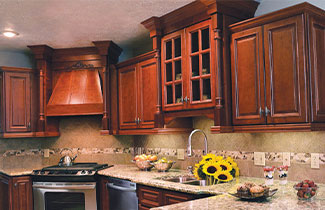 Getting the right kitchen cabinetry for your home will make a huge difference in the utility of the room, both for you as well as your guests. Standard cabinet design will be fine for a few of the kitchen cabinets that you'll have in the space, but from there you will likely want to have a few additional features to your cabinets. For example, you may want to have a small space where you have wine glasses hung underneath a cabinet, and below the counter, you have a small wine cooler. Or you might want a cabinet that has drawers with all of your baking tools. Call the team at Exclusively Cabinets by Cabinetek today to get started on improving your home.
In 1883 the Grand Trunk built their Jackson Branch from Pontiac to Jackson, which crossed the Pere Marquette at South Lyon. The GTW branch line continued to serve South Lyon until the early 1980s. The branch line is now a paved bicycle trail through town and Reynold Sweet Parkway follows the original route. Today, South Lyon hosts the CSX mainline from Detroit to Grand Rapids, and a passing track is located there. South Lyon's McHattie Park is the location of the Witch's Hat Depot Museum and Historic Village.