Custom Cabinets, Kitchen Cabinet Design, Kitchen Cabinetry, and Cabinet Design in Livonia, MI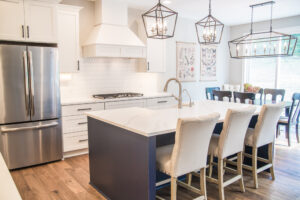 When you are looking to have the best kitchen cabinetry possible in your Livonia, MI, kitchen, there are telltale items that will tell you if you have higher quality kitchen cabinetry, including custom cabinets, or if you have more standard stock cabinets like you see at the big box retailers. At Exclusively Cabinets by Cabinetek, we feature the best in cabinet design and custom cabinets from some of the best cabinet makers available. Contact us today to learn more about getting custom cabinets for your home.
Why Custom Cabinets in Livonia, MI
When you get custom cabinets from one of our cabinet partners – JSI Cabinetry, KCD Cabinetry, Merillat Cabinetry, Milania Cabinets, Pioneer Cabinetry, Procraft Cabinetry, Pure Cabinetry, River Run Cabinetry, Showplace Cabinetry, Smart Cabinetry, and Starmark Cabinetry – you will know that you are getting quality that will last.
When you look at stock cabinets, you will likely see that the back panel in the lower cabinets are either non-existent or just have a couple of rails across the back. With quality custom cabinets you will find that the back wall of the cabinet is a full covering, and that covering will be full plywood construction and not particleboard or something worse.
Look at the drawers and cabinet doors. With the drawers, can you pull them out fully and still have them supported? Or do they only come out part way, leaving some space at the back of the drawer hard to get to? When you look at the cabinet doors on stock big box cabinets, do the hinges offer the ability to adjust the doors in six different directions? Are they soft-closing hinges that will prevent the door from slamming? Small details can make a big difference, and this is just another reason to opt for custom cabinets for your kitchen remodeling or bathroom remodeling project.
Kitchen Cabinet Design in Livonia, MI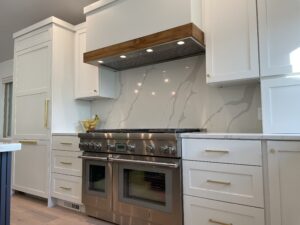 The other important aspect with custom cabinets for your kitchen or bathroom is how they are designed for the room itself. This can mean that you will have cabinets that can stretch across the entire wall and not leave gaps on either side. Plus, you can have other options like pull-out shelves in the cabinets to help reach all parts of the storage area. When you speak with us at Exclusively Cabinets at Cabinetek, we'll provide you all of the details you need to help make your Livonia, MI, home more organized.
The borders of Livonia Township were defined by the Legislature of the Territory of Michigan on March 17, 1835. Livonia Township was split off from Nankin Township, in which a Livonia post office had been established in June 1834. Livonia was incorporated as a city on May 23, 1950, by vote of the citizens of the township. An incentive was that this status would allow the residents to gain tax revenues from the Detroit Race Course (DRC).