Custom Kitchen Cabinets & Cabinet Design in Brighton, MI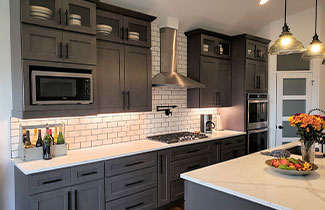 Your Brighton, Michigan, kitchen design can make or break the ambiance of your home. At Exclusively Cabinets by Cabinetek, we lend the expertise of our kitchen interior design professionals to help you create functional and attractive kitchen spaces that your household will love, and your houseguests will envy. With over 500 designer doors available it is easy to find the kitchen cabinet design that matches your vision for your home. Your kitchen cabinetry will provide the storage you need with the color and design that you want, all while increasing the value of your home. Talk with Exclusively Cabinets by Cabinetek today to learn more.
Custom Cabinets in Brighton, MI
Custom cabinets are a way to ensure that your kitchen is laid out how you need based on how you use the kitchen. Not only that but the custom cabinets are designed specifically for your home based on the measurements of your kitchen space. Stock cabinets can lead to issues with gaps and other layout issues, where custom cabinets eliminate these issues and fully utilize all of the available space in your kitchen. The team at Exclusively Cabinets by Cabinetek will work with you to find the right cabinets and sizing that fits your space and your needs. They are designed to fit into your space and to put the things you need in the right spot. Keep those spices in a space near where you will be using them, and have your baking dishes convenient to use.
Kitchen Cabinetry in Brighton, MI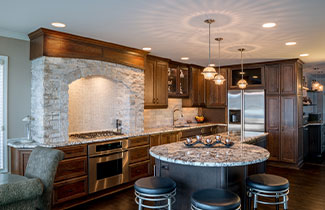 Kitchen cabinetry in your home can make a huge difference in what you think of the whole house, as well as what others think. Plenty of storage, fitting design, and appropriate coloring all work together to make your kitchen a space that draws people in and becomes the focal point of the home. But don't think cabinets can't make the same impression in other spaces in your home. Laundry areas are a great place to add cabinets if you don't have any, and mudrooms can also benefit from a few choice cabinets for individual storage for each member of your home. And of course, having the right cabinets in your bathrooms will make them inviting and provide storage for everyone's needs. Call the team at Exclusively Cabinets by Cabinetek today to get started on improving your home.
Brighton forms part of the South Lyon-Howell-Brighton Urban Area. It is one of two incorporated cities in Livingston County and incorporates land that was part of Brighton, Green Oak, and Genoa townships. Brighton's downtown experience is one of the best in all of Michigan. It has everything – a variety of interesting and eclectic shops; great restaurants; a cool playground; everything. Kensington Metropark is one of the best things about the Brighton area. You can hike, bike, golf, swim, skate, see wildlife, and everything else – all in one place.