Kitchen Cabinet Design, Custom Cabinets, Cabinet Design, and Kitchen Cabinetry in Birmingham, MI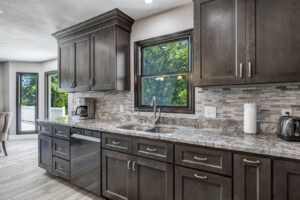 Do you ever wish that your kitchen cabinetry was better suited to the kitchen equipment that you have, or that you had the items you needed in a place that was better for how you use the room? These are the benefits of the right kitchen cabinet design and having custom cabinets for your Birmingham, MI, home. Call the experts at Exclusively Cabinets by Cabinetek today to discuss your kitchen remodeling or bathroom remodeling project and how custom cabinets can make those rooms more enjoyable to use every day.
Why Cabinet Design is Important in Birmingham, MI
When you start to work on your new kitchen cabinetry, it is very helpful to work on the design of how those cabinets will be laid out in your space. There are a number of different images that can be drawn to help illustrate your cabinet design and layout to give you a sense of what the finished product will look like.
The floor plan is the basic layout of your cabinet design that shows you not only where the cabinets will be, but also your large appliances such as the dishwasher and refrigerator. It can also show you where the sink will be, as well as any windows in the room. Dimensional figures will also usually accompany this drawing to help provide a sense of size.
Another option for showing your cabinet design is the elevation drawing. This is a face-on viewing of particular walls in the home with your cabinets overlaid where they will be positioned in the kitchen. If you have multiple heights of hung cabinets you will see this, and you can see the door front design as well. Again, dimensional figures will accompany this drawing to provide perspective.
Work With the Best in Birmingham, MI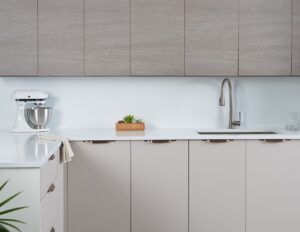 When it comes to getting the right kitchen cabinetry for your Birmingham, MI, home, you need to work with the best partners you can. When you speak with our team at Exclusively Cabinets at Cabinetek, we can show you examples of custom cabinets from our great partners including JSI Cabinetry, KCD Cabinetry, Merillat Cabinetry, Milania Cabinets, Pioneer Cabinetry, Procraft Cabinetry, Pure Cabinetry, River Run Cabinetry, Showplace Cabinetry, Smart Cabinetry, and Starmark Cabinetry. Contact us today to get started with your kitchen remodeling or bathroom remodeling project.
The earliest land entry was made on January 28, 1819, by Colonel Benjamin Kendrick Pierce (brother of future U.S. President Franklin Pierce) for the northwest quarter of section 36. The settlement's original plat was surveyed and recorded on August 25, 1836, in the northwest quarter of section 36, then owned by Rosewell T. Merrill, who also ran the town foundry and the thrashing machine factory. Now known as 'Birmingham', the village first received mail through the "Bloomfield" post office. Birmingham established its own post office on April 5, 1838.