Kitchen Cabinet Design, Custom Kitchen Cabinets and Cabinet Design in Southfield, MI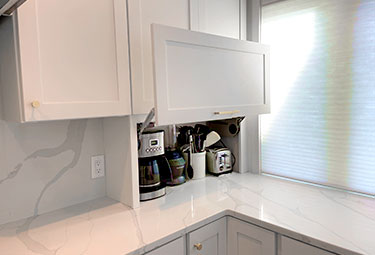 Every kitchen can benefit from the perfect cabinets that maximize both form and function. Whether you want a more updated look or a better use of space, custom kitchen cabinet design from Exclusively Cabinets by Cabinetek can help you achieve the Southfield kitchen of your dreams. We make the process stress-free.
Custom Kitchen Cabinets in Southfield, MI
We're Southfield's top choice for custom cabinets because we've streamlined the process down to an easy three-step approach. We work with you using the following steps:
Measuring and consulting: We take detailed measurements of your kitchen to optimize the use of space in your Southfield kitchen. We then ask for your design inspiration so we can incorporate your style into the aesthetics.
Design and rendering: Using your suggestions, we design the perfect cabinets and render them with detailed three-dimensional drawings. In these drawings, you see not only your cabinets, but how they look against the color of your wall, flooring, and other details.
Delivery and installation: We work with the lead manufacturers to produce and deliver your cabinets as fast as possible. We partner with the area's best contractors to provide quality installation without any issues. In the rare event something arrives damaged, we use the warranty to ship you a new one in as little as a few days.
Cabinet Design in Southfield, MI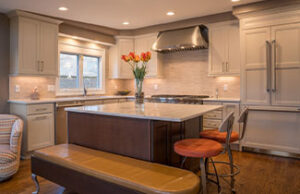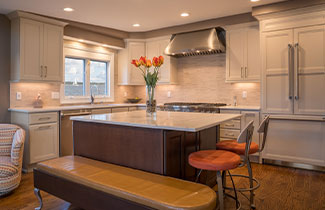 When you choose Exclusively Cabinets by Cabinetek for your custom kitchen cabinets, you receive the following benefits:
Quality design: We provide access to a professional interior designer with every job at no extra cost to you.
Expert service: Our sub-contractors have extensive experience installing kitchen cabinets and can do it efficiently and without error.
Top-tier materials: We work with 10 of the best manufacturers in the country to create the highest quality cabinets available.
Competitive rates: We provide free quotes and can work with budgets of all sizes.
Resting only 15 miles north of downtown Detroit, Southfield is a major business center for over 100 Fortune 500 companies. Nature lovers adore the city's many parks and outdoor attractions, such as Civic Center Park, Evergreen Hills Golf Course, and the Valley Woods Nature Preserve along the Rouge River. For indoor fun, check out the Park West Gallery (the largest privately owned gallery in the world) or attend a party at the Great Lakes Culinary Center. Contact us today to start your kitchen cabinet design process.