Kitchen Cabinetry in Farmington Hills, Livonia, Plymouth, MI, and all the Surrounding Areas
Do you want to set up a new house? Then, you should start with your kitchen. Kitchen is the heart of the house where all your meals are cooked and sometimes, even shared together. But you need to have an organized and clean kitchen with all the essentials stored inside properly. For this, you will require proper kitchen cabinetry solutions. If you need to build new storage units for your kitchen, you should hire a professional. We, at Cabinetek can be the right choice for you. We are an established and reliable company which has been in this business for a long time. We can provide you with kitchen and bathroom remodeling services along with custom cabinets, kitchen cabinet design, as well as installation services. We are known for our quality craftsmanship, great build, and our utmost dedication and efficient services for all our customers. So, if you belong to areas such as, Farmington Hills, West Bloomfield, Plymouth, MI, Livonia, or Northville, Novi, then you can opt for us.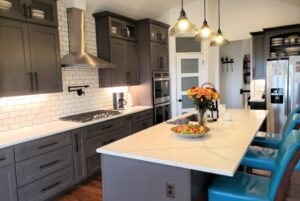 Here, we have put together a few questions to ask a company offering new kitchen cabinetry solutions. Take a look. 
Do you help with custom designs?

 
You would need a kitchen cabinet that suits your taste and personality and at the same time, also complements the existing décor in the kitchen. That is why it helps if the company can provide you with a customized design for the cabinet so that it fits well in your kitchen. That is why you must ask if the company can help you with customized designs or not. 
2. Can you deliver the cabinetry? 
If the company cannot deliver the cabinet to your doorstep, you will have to make arrangements to get it from the store. That is why it is better to ask the company in advance about their delivery options so that you are prepared. 
So, after getting these answers, if you are thinking of choosing us, contact us today.