Kitchen Design in Northville, West Bloomfield, Livonia, and all the Nearby Cities
Are you building a new house? If you are building the house from scratch, then you must be doing the kitchen of the house as well. A kitchen is one of the most essential parts of the house because all your meals are cooked here. You need to make it functional as well as ensure that it is appealing enough to add to the overall value of the house. That is why the kitchen design is an extremely important part. You should hire professionals to design the kitchen space for you. We, at Cabinetek, can be the right choice for you. We are an established and reliable company which has been in this field for a long time. We can provide you with bathroom and kitchen remodeling services along with customized kitchen cabinets, kitchen design, and installation services. We are known for our great build, high durability, as well as Immaculate designs according to the varying tastes and personalities of our customers. So, if you are located in areas like Farmington Hills, Plymouth, MI, Livonia, Northville, or West Bloomfield, Novi, then you can opt for us.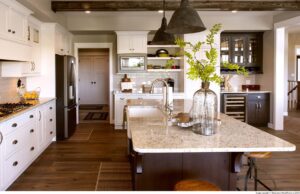 Here, we have put together a few things to check about the kitchen design before making our choice. Take a look. 
You cannot get swayed by the aesthetics of your kitchen only. You have to make sure that it is beautiful but it also does not come in the way of the cooking. The design should be such that it ensures the people working in the kitchen are enjoying utmost convenience and comfort. look at the design at the point of view of someone who will cook in this area and then make sure that it is aesthetic enough. 
You cannot forget that you will have to pay for the kitchen design from your own pocket. The elements used must be suitable for your budget. If required, you should ask for an estimated cost from the company and see if it is suitable for you or not. 
So, if you are thinking of hiring us for your kitchen design, contact us today.