Smart Cabinetry in Troy, Farmington Hills, South Lyon, MI, Royal Oak & Surrounding Areas
6 Tips on Choosing the Smartest Cabinetry Designs
Selecting smart cabinetry designs for your home can greatly enhance both the functionality and aesthetics of your space. Exclusively Cabients by Cabinetek provides smart cabinetry designs in Troy, Farmington Hills, Brighton, MI, Pinckney, MI, South Lyon, MI, Royal Oak and surrounding regions.
Here are six tips to help you choose the most intelligent cabinetry designs:
Define your needs and goals:
Start by identifying your specific needs and goals for the cabinetry. Consider factors like storage requirements, organization, and the purpose of the space. For example, kitchen cabinets may need to accommodate cookware, utensils, and pantry items, while bathroom cabinets might focus on toiletries and towels.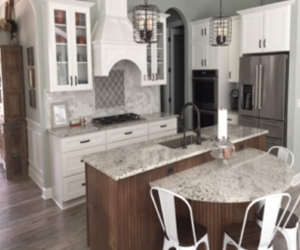 Maximize storage space:
Smart cabinetry designs make the most of available space. Look for cabinets with features like pull-out shelves, deep drawers, and built-in organizers. Utilize vertical space by incorporating tall cabinets or wall-mounted options. Customizable cabinetry can be tailored to your unique storage needs.
the craftsmanship, including dovetail joints, quality hardware, and smooth gliding mechanisms
Consider functionality:
Think about how you use the space and choose cabinetry that enhances functionality. For kitchens, soft-close drawers and doors, pull-out spice racks, and tray dividers can make m
eal prep more efficient. In bathrooms, consider a vanity with built-in electrical outlets for grooming appliances.
Opt for quality materials and craftsmanship:
Smart cabinetry designs should not only look good but also be durable and long-lasting. Invest in high-quality materials like solid wood, plywood, or MDF with a durable finish. Pay attention to
Blend with your home's style:
Cabinetry should complement your home's overall aesthetic. Choose designs, colors, and finishes that align with your interior design style, whether it's traditional, modern, rustic, or transitional. Neutral colors like white, gray, or natural wood tones often provide versatility and timeless appeal.
Embrace technology:
Modern cabinetry can incorporate various smart technologies to enhance convenience. Consider cabinet lighting with motion sensors, under-cabinet outlets and USB ports, or even smart locks for security. Integration with home automation systems can also add a futuristic touch.
Remember to work closely with a professional cabinetry designer or contractor who can help you translate your vision into a practical and aesthetically pleasing cabinetry solution. They can provide valuable insights and expertise to ensure your smart cabinetry designs meet your needs and expectations. Please call us without any hesitation.