Bathroom Remodeling in Livonia, Northville, Brighton, MI, Ann Arbor, MI, and Surrounding Areas
The bathroom, like the kitchen, is another place where we prefer to unwind and unwind. When we get home from work, the first thing we want to do is relax in the tub or take a hot shower. As a result, we recognize the importance of having a pleasant bathroom remodeling. The first thing we like to do in the morning is to freshen up. We get ready in the bathroom, we go to the bathroom before going to bed to clean ourselves, and the most essential thing is that we take care of our necessities.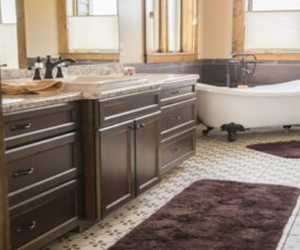 When you pay a visit to a friend, the first thing you want to do is take a tour of the house.
We enjoy showing off our bedroom, kitchen, and living area, complete with furnishings and décor. However, if you overlook the restroom area, your friend may not be pleased. So, the greatest method to stun your friend is to redesign your bathroom. Because it is clear, everybody who visits your home will be amazed by the living room, kitchen, and bedroom. However, you can surprise them by paying equal attention to your bathroom.
People redesign their bathrooms for a variety of reasons:
To raise the home's value
To expand storage space
To improve the home's safety
To improve efficiency
To give it a more appealing impression
Cabinetek has a team of professionals who are dedicated to assisting you in obtaining your dream home. Our team is dedicated to providing the finest possible service. For your home, we have the best products. We guarantee that our services will not let you down. If you want to alter your bathroom in Livonia, Plymouth, MI, West Bloomfield, Brighton, MI, Northville, and Ann Arbor, MI, give us a call right now.