Custom Cabinets in Northville, Plymouth, MI, Ann Arbor, MI, Brighton, MI, and Nearby Cities
No matter what kind of house you live in, we are always in need of more and more storage space. With our increasing needs and our changing lifestyles, it has become imperative to increase the storage space in your house. This is especially true when it comes to the kitchen because there are so many utensils and other kitchen ingredients or recipe books that need to be stored properly. Hence, you should try to increase your kitchen cabinetry from time to time. We, at Cabinetek, can help you with custom cabinets. We run off the most reliable and experienced companies which have been in this business for a long time. We can provide you with all kinds of kitchen designing and kitchen and bathroom remodeling services along with customized cabinetry.  We are known for our sturdiness, impeccable designs, and our dedication and creativity. So, if you are based in areas like Northville, Plymouth, MI, Ann Arbor, MI, Farmington Hills, South Lyon, MI, or Brighton, MI, then you can opt for us.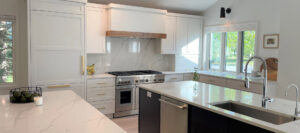 Here, we have put together a few things to check about your custom cabinets before ordering. Take a look.
You must make sure that you are picking the right size for your customized cabinets in the kitchen. Make sure that the size you are choosing can be easily accommodated in your kitchen. Measure the space allotted in your kitchen for cabinetry and then place your order.
The next thing that you have to keep in mind will be the design of the cabinetry. You have to understand that the texture and finishing of the cabinetry will also affect the interiors of the kitchen. That is why it is important that the cabinet also looks appealing.
So, if you're interested in getting these cabinets from us, contact us today.