Custom Cabinets in Plymouth, MI: 5 Types of Custom Cabinets You'll Love
When it comes to bathroom and kitchen designs, there are several moving pieces. With each element fitting perfectly into the puzzle, you need to make sure that your cabinets match the overall flow and style of your living space.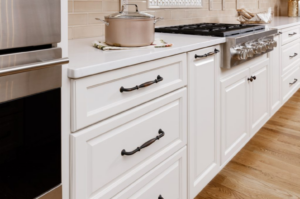 Here are five attractive custom cabinet designs that you'll love:
Louvered – Louvered wooden cabinets are horizontal slats that are ideal for spaces that require ventilation. With a unique style, Louvered cabinet designs are a great choice for modern interior design.
Shaker – The Shaker style is amongst the most popular of cabinet designs. Characterized by flat-panel planes, Shaker is a popular option due to its simple and traditional look.
Inset – Inset custom cabinets are made of inset doors with frames on the outside. Through concise measurements, Inset cabinets offer style and storage for years to come.
Beadboard – These custom cabinets are characterized by vertical planks and ridges that give kitchens a dynamic and homey feel. Beadboard cabinets are a great addition to cottages and family homes.
Distressed – Distressed cabinets are ideal for homeowners searching for an antique/colonial look and feel. With a vast range of customizations, including color options, rounded corners, unique finishes, and more, distressed cabinets add value and style to your home.
At Cabinetek we provide custom cabinet designs from a selection of cabinet manufactures to homeowners in Farmington Hills, Livonia, Northville, Novi, Plymouth, MI, West Bloomfield, and the surrounding areas. With the largest selection of cabinetry available, we make creating custom cabinets easy for homeowners looking to improve the look, feel, and function of their homes.
From measurement to delivery, we work with you through the entire process to ensure that you get the cabinets of your dreams! We even lend the expertise of our skilled interior designers, so you can create a custom look that matches your home. Contact us today to learn more about our custom cabinet options!