Custom Kitchen Cabinets in West Bloomfield, Farmington Hills, Livonia and Surrounding Areas
Are you planning to build a new kitchen? The kitchen is the heart of the house where all your meals are cooked and sometimes even shared together. That is why it is important to have your kitchens designed and organized at the earliest. One of the most important aspects of the kitchen design is the storage space. The kitchen is full of cooking essentials which require more space. In order to keep your kitchens as clean and tidy as possible, you should invest in good quality kitchen cabinetry. Nowadays, some companies even provide you with custom kitchen cabinets. We, at Cabinetek, can be the right solution for you. We are an established and reliable company that brings you a wide range of services for your kitchen and bathroom, right from designing and remodeling services to even installation, cabinets, and so on.  We can also help you with custom kitchen cabinets. We are known for our high-quality products and highly dedicated and committed services towards all our clients. So, if you are based in areas like Plymouth, MI, West Bloomfield, Farmington Hills, Livonia, Northville, or Novi, then you can rely on us.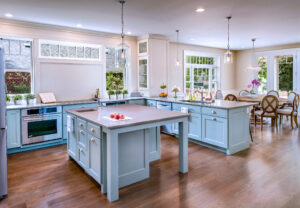 Here, we have put together a few reasons why you should go for custom kitchen cabinets. Take a look.
If you want your kitchen cabinets to resemble your tastes and sensibilities, you have to get them customized. Sometimes, ready-mades designs might not be according to your taste. That is why it is better to get it customized so that it is a reflection of your personality.
The idea of customization is to include only those elements of design in the cabinet which you want. In this way, since you are getting rid of all the other unnecessary detailing, you will also not have to pay for these unnecessary details. This will allow you to save money that can be allocated elsewhere.
So, if you are thinking of choosing us, contact us now