Kitchen Cabinet Designs in Ann Arbor, MI, Brighton, MI, Pinckney, MI, Plymouth, MI and Surrounding Areas
Are you thinking of designing a new kitchen cabinet? You will need kitchen cabinets from time to time because your needs are growing and you will need to accommodate your kitchen accordingly. A kitchen cabinet should be spacious, sturdy, and at the same time should be well designed. This will help you enhance the look and feel of your kitchen space as a whole, thereby improving the overall value of your property. That is why you must hire a professional kitchen cabinet design company who can help you. We, at Cabinetek, can be the right choice for you. We are one of the most established and reliable companies that can provide you with incredible kitchen and bathroom services. Right from the sales and installation of kitchen cabinetry to even kitchen and bathroom designing and remodeling services, we can help you with everything. We are known for our sense of professionalism, efficiency, and dedication to all our clients. So, if you are located in areas like Ann Arbor, MI, Brighton, MI, Hamburg Township, MI, Pinckney, MI, Plymouth, MI, Or South Lyon, MI, then you can opt for us.
Here, we have put together a few things to keep in mind while getting a kitchen cabinet design. Take a look.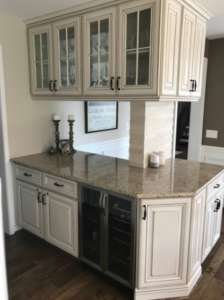 Whenever you are designing a kitchen cabinet, you have to keep in mind that the size of the cabinet should be suitable for your kitchen space. Measure the area first to understand how much space you have for the cabinet and accordingly get the cabinet designed. Otherwise, you might face the last-minute hassle of getting it exchanged because of a misfit.
You have to also focus on the budget while ordering your kitchen cabinet. You must inquire about the prices in advance and see if it is reasonable for you or not. It is advised that you do not exceed your budget while designing your kitchen cabinet because there are other expenses that you need to take care of.
So, if you are thinking of choosing us for your kitchen cabinet design, contact us today.