Kitchen Interior Design in Farmington Hills, Plymouth, MI, Livonia, Northville and Nearby Cities
Are you planning to build a house?  You should begin with your kitchen because it will be a little complicated as there are so many things to do in your kitchen as all your meals will be cooked here. It is better if you can hire a professional with the right kind of expertise to do your kitchen interior design. We, at Cabinetek, can be the right choice for you. We are an established and reliable company which has been in this field for a long time. We bring you a wide range of services, right from kitchen cabinetry sales, and cabinetry design and installation to even bathroom and kitchen remodeling services. We are known for our wide variety of services under the same roof along with our great durability and highly efficient and dedicated services for all our clients. So, if you belong to areas such as Farmington Hills, Plymouth, MI, West Bloomfield, Livonia, Northville, or Novi, then you can rely on us.
Here, we have put together a few questions to ask a company offering you a kitchen interior design. Take a look.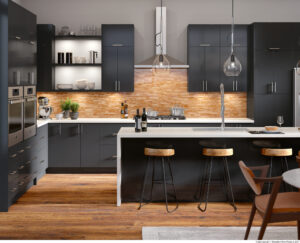 How much time will it take to complete the design?
You might be in a hurry to complete your home and would love to see the results. Or you might have some other important commitments with which you want to get this work done. That is why you should ask the company to provide you with an estimated time for the completion of the kitchen interior design.
Do you offer free quotes?
If you can get an estimated rate for the design, it will be easier for you to understand if the company is suitable for your budget or not. That is why you should ask the company to give you a few free quotes so that you can match it with your budget and also compare it with other companies to choose wisely.
So, after getting these answers, if you are thinking of hiring us, contact us today.