Kitchen Remodeling in West Bloomfield, MI: in Signs that It's Time to Remodel Your Kitchen
Kitchen remodeling breathes new life into your home! As the heart and soul of your home, a fresh kitchen remodel can improve your home's value and add functionality and style to an otherwise boring living area.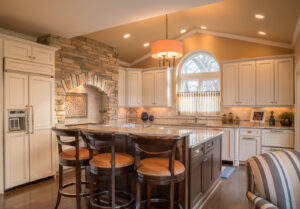 If you're not satisfied with the look and feel of your kitchen, then you should consider kitchen remodeling. Here are some other reason's why homeowners choose to take on kitchen remodeling projects:
You Need More Functional Space
One of the main reasons why homeowners remodel their kitchens is to add more functional space. Wanting to add more counter space? Have you always liked the look of a kitchen island? One way to add more space is through kitchen cabinets. Kitchen cabinetry can improve storage and aid in organization for improved flow and functionality.
Your Appliances Are Outdated
Outdated appliances can not only be an annoyance but consume excessive amounts of energy, increasing your electricity bill. Kitchen remodeling gives you the opportunity to not only improve your space but update your appliances for convenience and savings.
You Want to Resell Your Home
If you're planning on selling your home either now or in the future, then a fresh kitchen remodeling could be a good idea. In addition to increasing your home's value, kitchen remodels can entice more buyers and decrease the time your home is on the market.
At Cabinetek we make kitchen remodeling hassle-free for homeowners in Livonia, Plymouth, MI, Farmington Hills, West Bloomfield, Northville, Novi, and the surrounding areas. With the largest selection of kitchen cabinets and a range of respected cabinet manufacturers, we make it easy to find the right kitchen cabinets for your home. Whether you're searching for affordable cherry wood cabinetry or the popular shaker style for your kitchen, we help you get exactly what you're looking for within your price range.
For more information on kitchen remodeling and cabinetry, give us a call today at 248-233-2000.