Milania Cabinetry in Ann Arbor, Brighton, Northville, Plymouth, Livonia and Surrounding Areas
Are you building a kitchen from scratch? Or are you planning to remodel it? No matter what you're planning to do, you must understand the importance of cabinetry in the kitchen. With our growing needs, kitchen essentials are also increasing in number. You will need a proper storage unit to keep all these things. You must look for a company that can help you with sturdy kitchen cabinets from brands like pure, river run, or even millennia cabinetry. We, at Cabinetek, can be the right solution for you. We are an established and reliable company that can provide you with all kinds of kitchen remodeling and bathroom remodeling services, kitchen designs, and kitchen cabinetry. We are known for our impeccable designs and sturdy products. So, if you belong to areas such as Ann Arbor, MI, Brighton, MI, Farmington Hills, Northville, Plymouth, MI, or Livonia, then you can opt for us.
Here, we have put together a few things to look out for while purchasing your milania cabinetry. Take a look.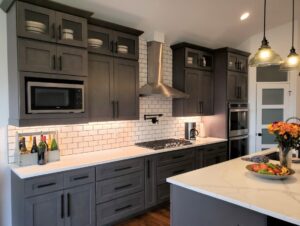 Make sure that the kitchen cabinetry option you are choosing goes well with the kind of interior you have. This will make sure that the overall look and feel of your kitchen are perfect and it will also translate into greater value for the entire property. A well-maintained and well-designed kitchen can also fetch you greater returns if you ever decide to sell the house or put it on rent.
You must also consider the budget while making this choice. If you do not want to exceed your budget, you can always take advanced quotes from different companies and then match them with your budget to decide the right choice. If needed, you can also compare these quotes with others and then make a wise decision.
So, if you are interested in our kitchen cabinetry, contact us now.